Justyna Steczkowska - Maria Magdalena "All is one tour"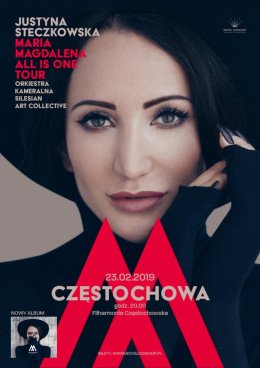 Warszawa
Teatr Polski
ul. Karasia 2
Ceny biletów
99, 129, 159, 299 zł
WHO IS MM ?
My first name is hated, by nothingness absorbed
My second name, Maria, shall bring comfort
My third name, Magdalena, shall bring love
I am there... Where the beginning and where the end is...
Without being nowhere
I am loved and rejected ...
I am the curse and absolution
I am the daughter of a priest... I am the daughter of a sinner...
I am married to the night... I am the mother of the dawn
I am the relief in coming
I am the consolation in leaving
I am... Husband and wife
I am... The mother of my own father
I am... The daughter of my own son
I am...
I give you back your lives
Since you have taken mine
I am
Maria Magdalena
THE MUSIC
It's an extraordinary combination of club music and string orchestra and spatial vocals of Maria Magdalena - European singer, violinist and composer. J. Rene Kosik, club music producer and composer, took care of the exquisite sound of the whole. The project was born out of pure love for the Art.
It's the music of our times, directed to sensitive people, as well as those who love intense club rhythms and unusual, even cosmic, space in music.
Vocals, choirs, violin and production: Maria Magdalena
Synthesizers, drums, sampling, programming, mixing and
production by: J. Rene Kosik.
Orchestra: Silesian Art Collective
Lyrics: Maria Magdalena, Sarai, Meth Dears, K. Szabo
Przesuwając kursorem myszy po planie sali pojawi się cena biletu jak i ilość wolnych miejsc w każdym z sektorów. Po kliknięciu w wybrany sektor pokażą się poszczególne miejsca - kolory wskazują dostępność i kategorię cenową. Wystarczy zaznaczyć wybrane miejsca i przejść dalej do formularza rezerwacji. Po wypełnieniu swoich danych, spośród dostępnych możliwości wybiera się sposób płatności jak i dostarczenia biletów. Rezerwacja zostaje utworzona po kliknięciu "Zamawiam".
Wybierz sektor z planu sali